Meet Fraser and his family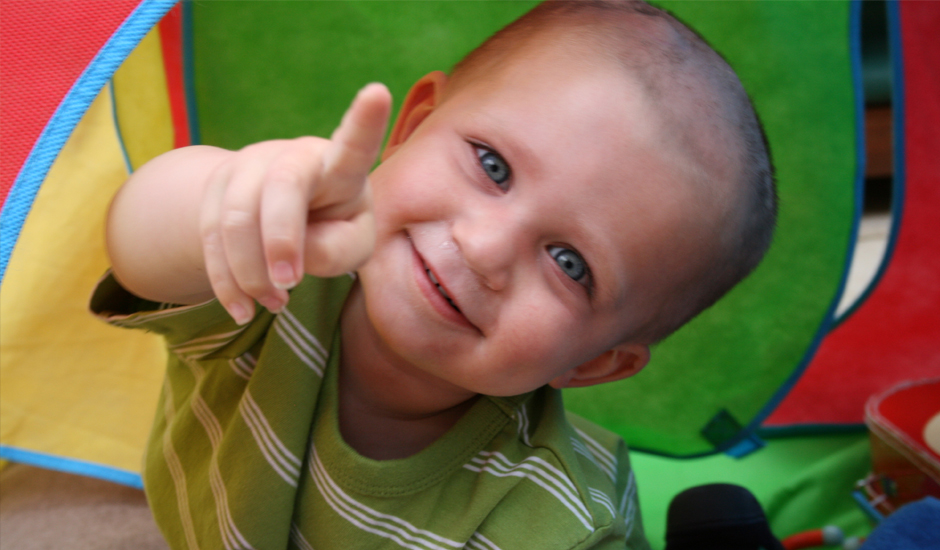 Sam and Gavin Blake, from Wimbledon, have been supported by Rainbow Trust since June 2008 when their six month old son Fraser started chemotherapy for aggressive high-risk stage 4 neuroblastoma, in Fraser's case tumours on both adrenal glands.
Intense treatment began immediately but soon the strain of hospital life took its toll on the family; as well as caring for their four year old son Oscar, Gavin was self employed and couldn't always go to hospital appointments. The family realised they were in need of some extra help. They were referred to Rainbow Trust and met Family Support Worker, Dawn, from the Surrey Care Team soon after.
During Fraser's treatment, Dawn played with him while Sam went to the shops or stepped out of the hospital for some fresh air. She was also able to help at home by spending some time with Oscar doing arts and crafts or playing trains.
"Dawn endlessly played with cuddly toys, toy animals, cars and trains, keeping Fraser company when I needed a break. It was a real relief to have someone to talk to who knew what we were going through. Sometimes our friends didn't know what to say. She was great to have around."
Dawn continued to support the family, spending time with the boys by taking them to the park and visiting the pet shop to see the animals they both loved. Sam was then able to get on top of things at home or take some time for herself. Dawn was also able to take Sam and the children to hospital for Fraser's appointments.
"It was great to have Dawn there with me at hospital when Gavin couldn't make it. Knowing that Dawn was there with me, supporting me and playing with Fraser, took away a lot of the worry and stress for both Gavin and I."
When Fraser relapsed and a tumour was found in his brain, Dawn was there to support the family by visiting Fraser and Sam in hospital. She was always there when Sam needed to chat.
Since Fraser's brain and spinal radiotherapy, he has been doing well and acts just like a normal two year old boy! Although Fraser is currently in remission, his outlook is uncertain.
Dawn continues to support the Blake family – visiting the park and playing pretend houses being favourites!
"You go into auto pilot when you hear your child is ill, you have to cope, you have to function, as you have no other choice. With a Rainbow Family Support Worker helping you, you can do better than function. You can deal with things."