Meet the Phipps'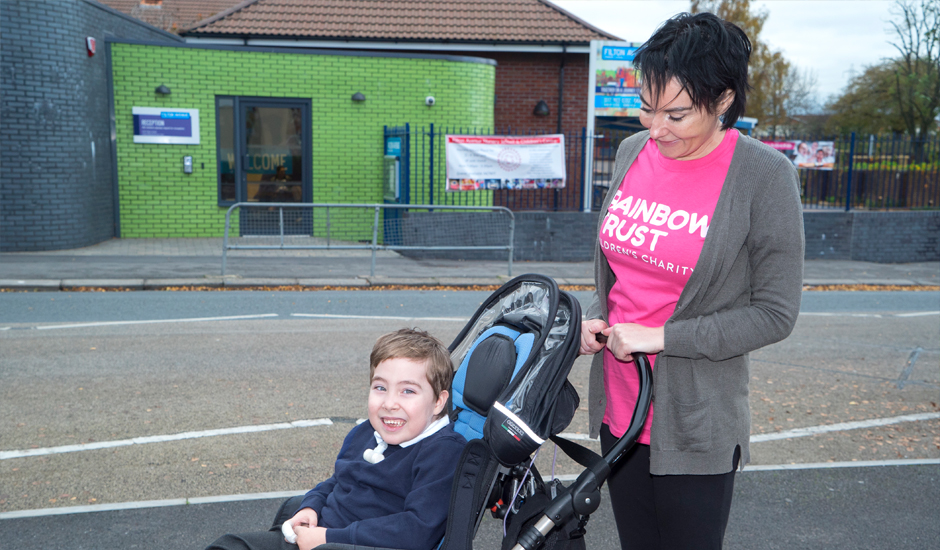 Leo's Story
Becky Phipps found out she was pregnant quite late on, she was already 22 weeks gone. At the time she had been put into hiding by the police because of a violent partner (Leo's dad) and had put the additional weight down to thinking she was just becoming unhealthy.
She had a scan and it was then that they saw that the back of Leo's brain was missing. Further scans showed that Leo had Spina Bifida. At 1 day old he was taken to Frenchay hospital for an operation. At 3 days old he was allowed home, but stopped breathing and went back to hospital to have a brain shunt put in.
Because of his condition, Leo has a long list of problems. He is prone to meningitis of the brain; the cerebella at the back of his brain has slipped because the spine couldn't support it; he's had the back of his brain removed; his vocal chords are paralysed and he is paralysed from the waist down, just to name a few.
When life turns upside down, it's not always easy to be strong and this is where Rainbow Trust Family Support Worker Nicky helps Becky: "I'll support Leo through anything and be there for him, but sometimes I just have to go and have a cry. That's when I ring Rainbow Trust's on-call service and speak to Nicky. It takes a long time for someone like me to trust someone and I trust Nicky."
Leo needed 24-hour supervision and Becky would be alerted to a problem through an alarm that would sound and Becky would have to attend to him. "Before Rainbow Trust I kept asking for help, asking and asking. Leo's alarms would go off all the time, we're not talking hours, we're talking minutes; I hadn't slept for nearly 2 years, I would just doze in between Leo's alarms" she explains. "I was in isolation, I have no family and no friends in here".
Becky ended up having a big breakdown, but Becky doesn't remember much of about it. "Nicky took me to Torquay where I did have some friends to try and help me recover, but I don't even remember that". Because of her breakdown, Leo was put on the child protection act.
As Nicky's relationship with Leo grew, it also did with Becky.
"Nicky was just so patient with me. I was quite open and honest at the beginning. I told her I don't trust anyone, I don't socialise, I don't want anyone. I probably don't use Rainbow Trust in the same way others do. I use it when I am in a crisis and if I call, Nicky is always there. I've never had that before in my life".

"Without Nicky I think I just couldn't do it. When I get really wound up and can't cope with the stress and stuff that all the other services put on me I speak to Nicky and she just listens to me. She reassures me and puts things into perspective".

"Leo idolises Nicky, he talks to her through 'Macaton', he's cheeky with her but he trusts her completely and is so comfortable with her".