Meet Nicole and her family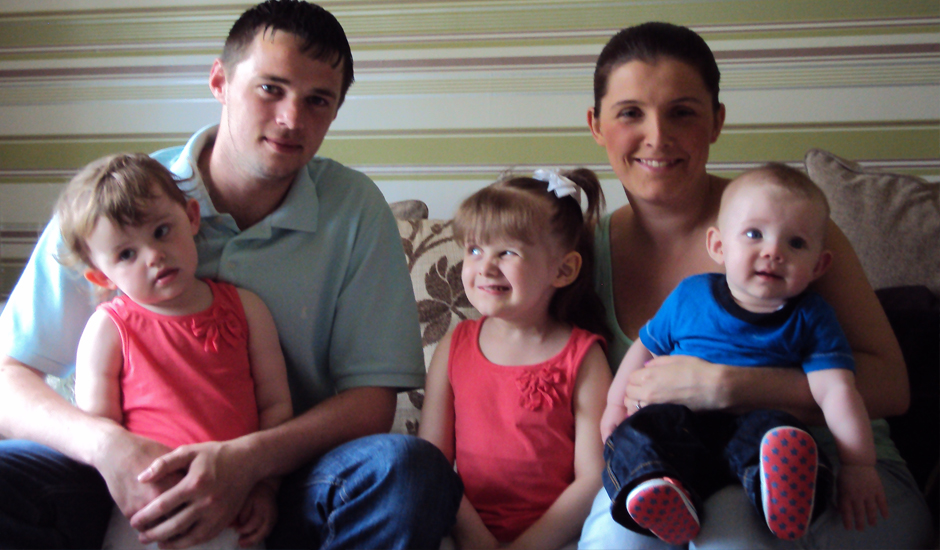 Nicole Aghar was just eight weeks old when her mum Lyndsey noticed her daughter's eyelids flickering oddly. Nicole was Lyndsey's first child, and like any first time-mother, Lyndsey was worried she was being overly anxious.
Not wanting to ignore her motherly instinct, she took Nicole to her local GP who referred Nicole immediately to the hospital on Christmas Eve 2007. A month later, the family were given the devastating news that the flickering eyes were the symptoms of a brain tumour and its location meant that it was too dangerous to operate on and that the tumour had destroyed Nicole's sight. Nicole was blind. Doctors were unable to operate without causing further damage and prescribed 18 months of aggressive chemotherapy.
Lyndsey was told about Rainbow Trust by a social worker when Nicole was first diagnosed at three months old. Lyndsey was adamant that she didn't need the help of outside services and refused the support of a Family Support Worker, worrying that it reflected badly on her capabilities as a mum.
The day after she was christened in February 2008, Nicole's chemotherapy treatment began. For Lyndsey, Nicole's treatment and hospital stays proved an upsetting and lonely period. Nicole's father, Andrew, had used up annual leave for Nicole's previous hospital appointments, scans and early treatment. Unable to live without Andrew's salary, Lyndsey spent weeks by Nicole's bedside alone, staying overnight whenever her daughter needed to stay in and Lyndsey found it difficult to keep five month old Nicole occupied, and her blindness meant that Nicole didn't know when it was day or night and so proved a fitful sleeper.
When Nicole was 18 months old, the support of Rainbow Trust was again suggested to Lyndsey who realised how the charity could support her and Andrew and gratefully met with Family Support Worker Vicky from Rainbow's County Durham based team.
Looking back Lyndsey muses:
"We'd have been lost without Vicky, I understand that now. I was worried that people would think I didn't care about my daughter if I let someone else sit with her in hospital, but I realise now that I needed support to continue to support my daughter."
Vicky's impact on the family was immeasurable. Lyndsey no longer had to rely on her parents or in-laws to for transport to the hospital, and instead Vicky offered professional, reliable transport assistance in her special Rainbow car, and the chance to chat through Lyndsey's worries during the journeys. Lyndsey now has another daughter, Brooke, to look after, meaning that her time was split between her two children, one in hospital, one at home.
"I now know I couldn't have gone on coping with all the stress without Vicky's help. I think I would have broken down without Rainbow's support. I used to get really defensive about Nicole, not wanting anyone's help other than my close family. Nicole's illness has been such a strain on all us. It took me a while to trust Vicky but she has never let me down and is wonderful with Nicole and Brooke. I really don't know what I would have done without her help."
Unfortunately for Nicole, her recovery has not been without setbacks. She has relapsed twice since the initial diagnosis and has endured two more courses of chemotherapy before her current course. Complications have arisen due to the length and strength of the chemotherapy treatments and Lyndsey and Andrew have been warned that Nicole's bone marrow is weak and tiring and her hearing has been affected. Nicole is now on a different course of treatment for a year which she has so far had far less side effects from.
At her last scan, witnessing a shrunken tumour, Nicole's doctor told Lyndsey that "We are winning, it's just going to take a matter of time" which has left Lyndsey and Andrew feeling a lot more positive about Nicole's future. Nicole starts school in September, and Lyndsey is looking forward to enjoying Nicole making friends and reaching further milestones. With Vicky's help she can remain strong for her family and fight for Nicole's good health.
"People always ask me, how do you do it, how do you cope with everything that has happened with Nicole. I tell them, the day it breaks Nicole, is the day it'll break me. She is such a happy joyous child, how can I give up when she has so much to live for? Rainbow's support means I can cope as best as I possibly can for my family and for Nicole."