Measuring our impact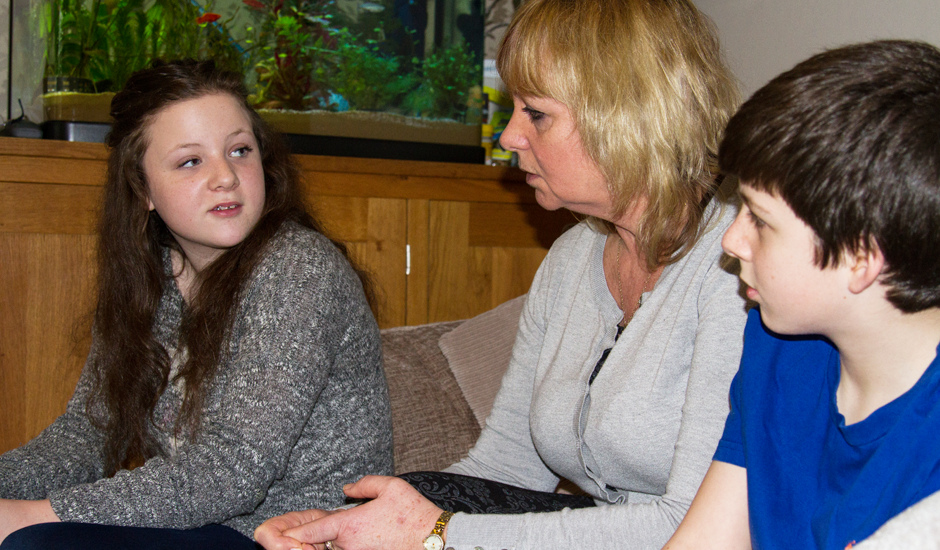 After 30 years of working with families, we know we have created a great service that helps families living with a child with a life threatening or terminal illness.
To measure our impact we recently completed a pilot audit amongst a sample of families. Results showed that at referral, 93% of families surveyed were concerned that they were unable to spend quality time together, and had a reduced quality of life. With 98% of families concerned that they were unable to manage their stress. After just six months of Rainbow Trust's support, every family reported an improvement in their ability to cope.
Iona and Cameron, pictured above, with Swindon based Family Support Worker, Jayne who provides them with sibling support.
"We can talk about what it's like for us. I'd feel more alone without the groups." Says Iona, James' thirteen year old sister.
Stability and confidence

Dealing with their situation, conversations with medical professionals as well as daily chores such as shopping, cleaning and managing behaviour feels overwhelming.

89% of families felt they had regained some confidence and felt more stable with Rainbow Trust's support.

Economic wellbeing

If parents are employed, working hours can be reduced, or a job lost due to the increasing pressure of caring for a sick child. Bills may not be paid on time (if at all), and it can be difficult to get the children to school and to attend medical appointments or meetings, as travel is so expensive.

84% of families reported an improvement in this area with Rainbow Trust's support.

Quality of life

For families in this situation, it can be impossible to find the reserves to think and plan activities at home, or to go out. Parents can feel guilty not being emotionally available to support each other. It seems impossible to consider how another may be feeling.

95% of families report a better quality of life with Rainbow Trust's support.

Managing stress

Family members often tell us that they can become impatient with each other and feel overwhelmed by anything and everything. They get extremely emotional at even the smallest things that happen.

86% of families are better able to manage stress with Rainbow Trust's support.

Quality time

The family can't find the enthusiasm or time to spend together enjoying each other's company. They can feel guilty about this, but change just seems impossible. Conversations are difficult, there is a lack of communication and information shared.

93% of families report that they are spending more time together with Rainbow Trust's support.