Support for the whole family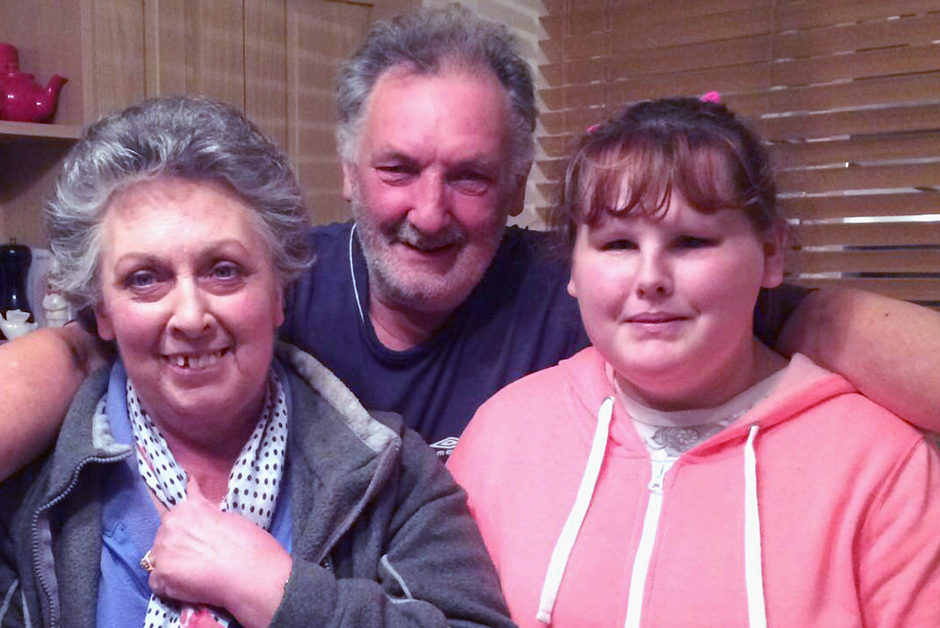 Jeanette and Tony, grandparents of 13-year-old Jordan, have been supported by Sarah, one of our Essex Family Support Workers, since 2013.
Jordan was diagnosed with cancer of the eye when she was just over a year old. She was treated but her eye could not be saved. In 2010, she relapsed and was diagnosed with cancer of the lymph nodes and is currently undergoing treatment. During this time, Jordan's mum was also diagnosed with cancer.
Sarah supports Jeanette emotionally, she is someone for her to talk to and lean on. She helps with Jordan's transport to hospital appointments and takes her out to give her grandparents a much-needed break.
Throughout the years Jeanette and Tony have been a constant source of love and support for both Jordan and her mother. After Jordan's diagnosis, her grandparents moved home to be nearer the family to support them.
The couple took Jordan and her mother to hospital appointments, bought specialised equipment for Jordan, and even adapted their garden shed into a classroom so Jordan could be home schooled.
Sadly, in 2013 Jordan's mother died and Jeanette and Tony became Jordan's main carers.
This devoted couple has experienced so much anguish and sorrow over the loss of their own child, but have selflessly put their grief aside and done everything in their power to give Jordan all she could need.
Sarah, their Family Support Worker, says "Since meeting Jordan and her family, I have witnessed, on countless occasions, Nan bravely battling away in an attempt to ensure that Jordan receives the correct healthcare, vision aids and supports, an adequate level of schooling, and satisfactory support from social services. Grandad is past the age of retirement, yet he still has to work three nights a week to ensure that they keep their heads above water."
Sarah helped Jeanette sort through her daughter's things after she died and continues to be there for the couple as they do their best for their granddaughter.
Sadly grandparents are often forgotten, but Rainbow Trust will support them and the whole family for as long as they need us.
This year we helped grandparents to understand complicated medical issues, come to terms with their grandchild's diagnosis and if needed, we gave them someone to turn to in their grief so they could stay strong for their children.