Swimming training plan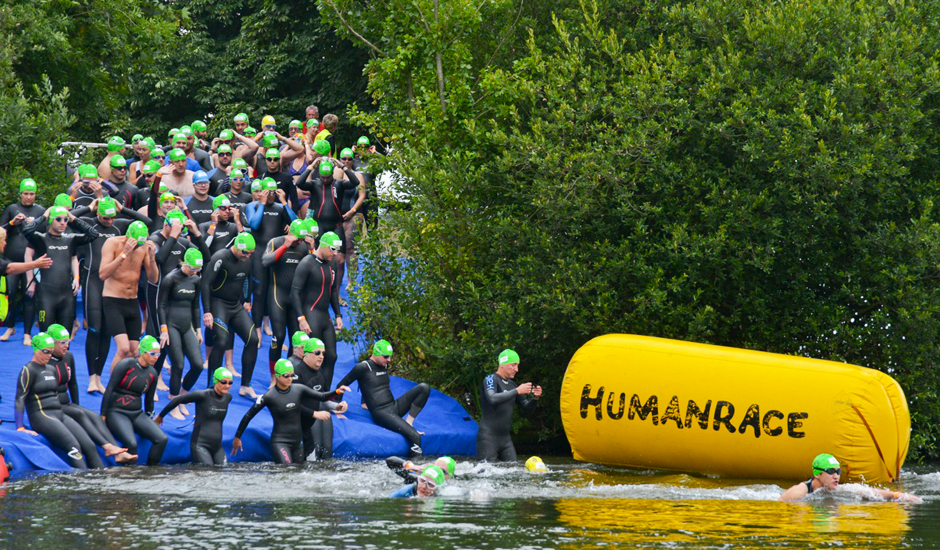 Training
Build up your training distances over a period of time. The Hampton Court Swim is 2.25 miles, which is just over 3,650meters. I.e. that's 146 lengths in a 25 metre pool, 73 lengths in an Olympic size 50m pool.
Break training into sections, you don't have to swim the whole distance every time that you train.
Practice looking straight ahead when you breathe, this will be useful for sighting turn buoys during the swim.
Kit list
Wetsuit and swimming cap. You can hire/buy your wetsuit from some great websites and its worth getting this plenty of time in advance so that you can train in it. It is essential that you wear a swimming cap on the day as this will have your swimming number on it and this will be supplied by the organisers prior the race. It is worth buying another one to train in and also you can wear it underneath your official one for an extra layer of warmth over your ears!
Vaseline. This is to prevent your wet suit from rubbing. Apply the Vaseline with rubber or plastic gloves DON'T get it on your hands!
Goggles (Mirrored goggles are best to prevent glare)
Warm clothes. Have clothing for all weathers with you, anything can happen at an open water venue. This is especially important after the race – having a warm towel and a jumper at the finish line is very much needed!
Energy tablets/gels. Use these for an energy boost prior the swim.
Sun Block. Use sun block whatever the weather; always apply it an hour before the race to allow time for it to soak in.
Recovery drink. Drink a recovery drink after the swim to replenish lost electrolytes and 'feed' your muscles – a good one that tastes great is 'for goodness shakes'.
Race Day
Try to arrive at the venue at least one and a half hours before the start of the race to get familiar with the surroundings. This is so you don't have to rush and get plenty of time to get ready - the last thing you want is to rush around trying to squeeze into your wetsuit!
Check out the route
If you can have a good look at the start, turn buoys and finish. Try to pick out landmarks that line up with the turn buoys, as these will be easier to see from a swimming position that the actual buoys.
If you are allowed to have a 5-10 minute warm up in the water before your swim. This will mean that you are more accustomed to the cold water and it won't be too much of shock when you get in at the start. Always check with the marshals before doing this however.
Swim time!
Wear your goggles underneath your swim cap. This will avoid your goggles being knocked off your head at the start (if there is a scramble).
If you are worried about the start then hang back and wait until you feel more comfortable – remember if you are doing this just for fun and not competing then there is absolutely no rush and you can go at your own speed.
Stay relaxed at the start and don't panic. Cold water can make you breathe rapidly, if the water feels cold and this happens, stay calm; your body is adjusting to the water temperature and with time will adjust.
Concentrate on breathing deeply, and swim and most of all…enjoy it!
You may also like
Why you should train in a way that covers all aspects of fitness, not just running.

Read more

A comprehensive program to get you ready for a long distance bike ride.

Read more