Meet Leo and Elliott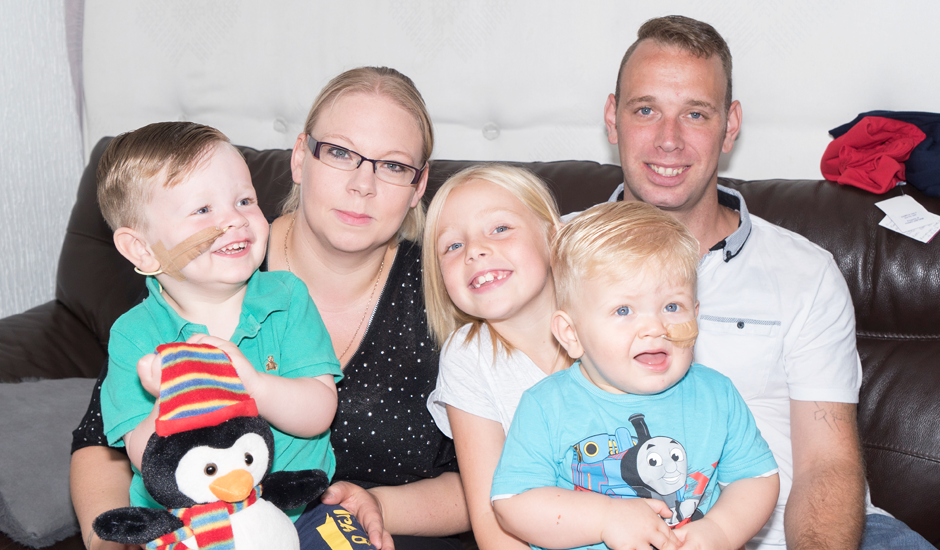 Kayleigh and Ben
Kayleigh and Ben have three beautiful children; Chelsea is eight, Leo will be three in December and Elliott is 18 months old.
Both boys have Glycogen Storage Disease (GSD), a genetic and metabolic disorder. Their livers cannot store energy like most people and they can only store what they need for two hours. Leo and Elliot have to be fed every two hours. If they don't have enough or have too much food, they can become seriously ill very quickly.
This is Kayleigh's story
When Leo was born, he spent four weeks in the Neonatal Intensive Care Unit (NICU) as doctors didn't know what was wrong with him. He was quite floppy and didn't want to feed so had to be tube fed. He was 14 months old before he was diagnosed with GSD. He couldn't crawl or walk and he'd sleep for 19 hours a day.
Our second son, Elliott, was born two months after Leo's diagnosis with the same GSD.
Our Community Nurse recommended Rainbow Trust Children's Charity to us and Claire started supporting us at home.
Ben came out of work when Elliott was born as I couldn't do the feeding on my own. I was absolutely exhausted - I was doing it day and night and then running the house and looking after everyone.
Claire came in to support us soon after Leo's diagnosis and we saw her as someone for Chelsea. Claire spends one to one time with her which works really well for Chelsea.
Chelsea doesn't speak to me about stuff as she knows I have a lot on even though I will always have time for her. She has a communications book that Claire has given her, where she can write down her feelings, what has upset her or what she's done and then Claire talks to her about it. It gives her a chance to say how she feels. Claire also takes Chelsea for days out which she loves.
When Claire takes the kids out, we can do things like pay the bills or do the shopping and not have three kids in tow and that makes things a lot easier.
"It gives us time together too. It's been a lot of stress and we were at a point of breaking up, but then we just pulled together and got on with it," said Ben.
With Claire's help, we are better able to function, she's taken a load off of us. I don't feel like I am being judged which is good – she lets us be normal and I know the kids are safe.
You just can't relax as you're constantly doing something but you have to see past that. I don't want the feeding to govern the boys' lives – it's a big deal for us, but I hope when they are older they look back and just remember having fun.
You don't get a day off from this, you just to get on with it. When I am having a panic, Claire tells me it's fine – she's really calm and you need that to bring you down to calm too.
"What would I like to say to Claire? Never leave us! Thanks for understanding that not everyone fits one box. She just takes us as is and that is great. "
You may also like
Eight-year-old Isabel woke up one morning unable to move or speak. Her condition is undiagnosed and affects her brain.


READ MORE