Liz skydives for Rainbow Trust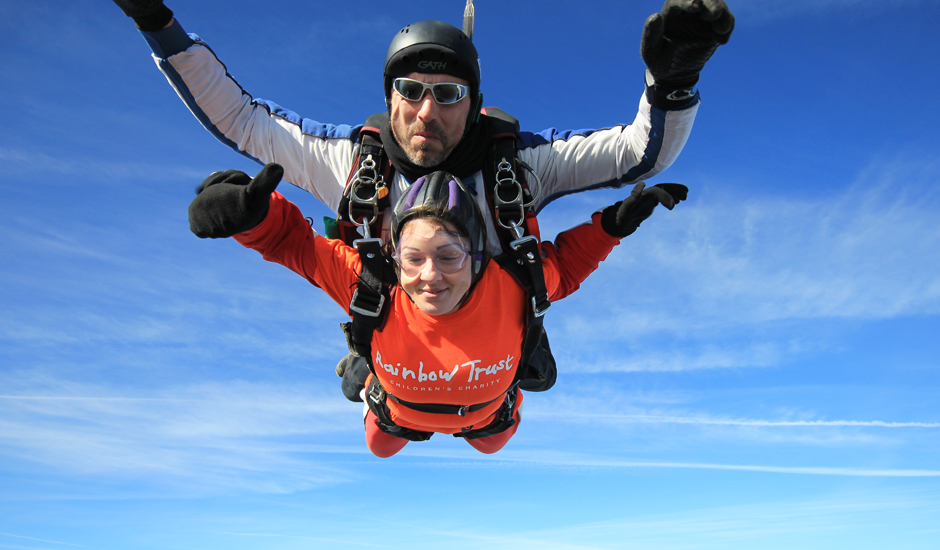 Liz Stratford, 25, from Manchester, had wanted to do a skydive for as long as she could remember. She tells us here what it meant to her to finally tick it off her bucket list, whilst doing it for a cause she believed in and to raise funds for Rainbow Trust.
"I had always said if I was to do a skydive it would be for charity. It was like a conscious thing I needed to do for myself. So when my sister told me about Rainbow Trust I decided that this was the perfect charity to do a skydive with to raise money and awareness.
There are a lot of charities out there that get recognition, yet a lot of people I know hadn't heard of Rainbow Trust and all the fantastic work they do. I don't personally have a connection to the charity, but I'm so glad I chose them.
When I got in touch with the charity to book my skydive, I was told I would need to raise £500. At first it seemed daunting but I knew I could do it. My family and friends were very supportive and overall I raised a massive £665, which I was overjoyed with.
The Events team at Rainbow Trust helped me to reach my target - the support I received was phenomenal and they were always just a phone call away. Maxine is extremely friendly and approachable and reassured me by telling me about her own skydiving experience.
I had never felt anything like it! The amount of adrenaline and emotion that was rushing through my body was unbelievable. It was such an accomplishment and by far the most amazing thing I have ever experienced.
The views that you see and the feeling you get when you're free-falling through the sky is something else. The support I received from the airfield was fantastic as well. They reassured me so much to the point where I wasn't nervous anymore, just excited to get on the plane!
Having never done anything like this before, without a doubt I would do it again, raising money for Rainbow Trust, knowing what a brilliant charity it is. I cannot express just how amazing it feels, especially skydiving for charity knowing that you have raised so much for such a good cause.
If you're having doubts or are unsure if you can do it, just have faith in yourself and know that the support will really help you. It will be the best thing you will ever do!"