A message from Heather and Mark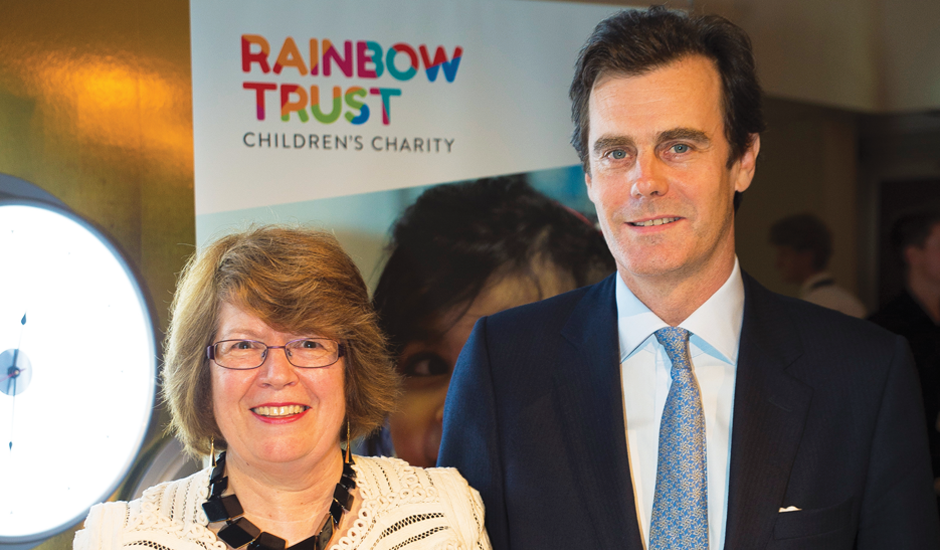 Introduction from Mark Cunningham, Chairman and Heather Wood, Chief Executive of Rainbow Trust Children's Charity.
Rainbow Trust Children's Charity is the leading charity in England providing community-based, bespoke emotional and practical support, direct to families who have a child with a life threatening or terminal illness.
After referral, families in crisis will be quickly assessed, and a Rainbow Trust Family Support Worker will be assigned to them to offer tailored help and support to their family, with whatever they need.
In 2015/16, we supported 2,227 families, an increase of 14% on last year. We also developed partnerships with NHS services and other children's palliative care organisations.
This impact report is about the difference Rainbow Trust's supporters, volunteers and staff made to thousands of families in 2015/16. Together we helped make their lives easier and helped them cope at one of the most difficult times they may ever face.
More help for families
This year it is 30 years since Bernadette Cleary founded Rainbow Trust after the family of a dying child asked for her help. From supporting that first family, word quickly spread and Bernadette started travelling across the country, trying to help as many families as possible.
From these humble beginnings, our nine care teams in Central London, Cumbria and Lancashire, Essex, Greater Manchester, the North East, Southampton, the South West, Surrey and West London supported 2,227 families this year - 14% more than last year.
We have partnered with Evelina Children's Heart Organisation (ECHO) to appoint our first disease specific Cardiac Support Worker, working with children with serious cardiac conditions at the Evelina Children's Hospital. We also started supporting families on the Isle of Wight, and introduced another Neonatal Support Worker to strengthen our support of families with a new-born baby in intensive care.
Our quest to increase partnership working also reached important milestones with the start of two new partnerships with Jessie May Trust and with Acorns Children's Hospices. The project with Jessie May Trust will pilot specific volunteering opportunities alongside our Family Support Workers in the South West, and the Face2Face project with Acorns Children's Hospices will develop a structured parent befriending service, involving trained parent volunteers.
We made significant strides in measuring the difference that our Family Support Workers make to families' lives. After completing a pilot to evidence the impact of our support, the results showed that, in just six months of receiving support from a Rainbow Trust Family Support Worker, 100% of families told us that their ability to cope had improved.