The Poole family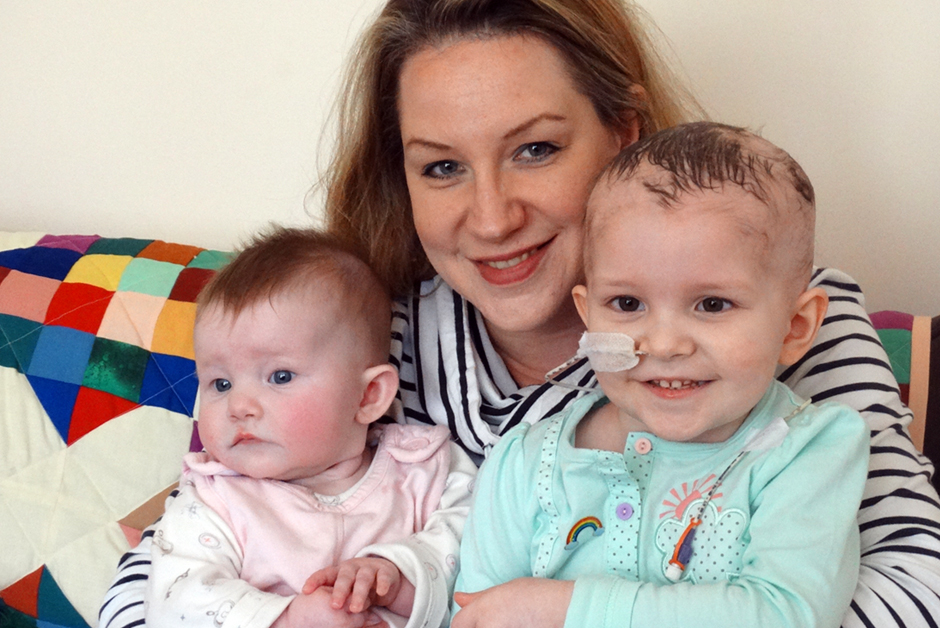 How do I give my baby daughter attention when her sister is so critically ill?
In August last year, Molly Poole, aged two, was diagnosed with a brain tumour that, unbeknown to her parents and doctors, had been there since she was eight months old. At the time the family was living on the Isle of Portland and in the hours that followed diagnosis, Molly, her Dad Jon and Mum Samantha, had their lives turned upside down.
It was so sudden
Samantha, who was also five months pregnant, explains, "It was so sudden, a team from Southampton General's Paediatric Intensive Care Unit rushed over to pick Molly up and take her straight into surgery". Samantha and Jon followed Molly to Southampton and have not returned permanently to Portland since.
"We knew we were going to be in Southampton for a while so we rented a place there. Molly wasn't discharged until November and was constantly back in hospital for treatment."
Samantha gave birth to Molly's little sister, Rebecca
Molly was going through chemotherapy when Samantha gave birth to Rebecca in December. Rainbow Trust Family Support Worker, Shirley, was already supporting the family and had built a strong relationship with Molly, which helped Samantha balance her time between Rebecca and Molly. "It's hard at times. When Molly had septicaemia I had to stay in an isolation ward for two weeks. I only saw Rebecca once in that time and that was through the ward window…it almost killed me.
"But Molly being so comfortable with Shirley has been a lifeline to us. It's allowed me to go to Rebecca's appointments, knowing Molly is with someone I trust and she loves. Shirley also looks after Rebecca, so I get time to support both my children. I honestly don't know where I'd be without Rainbow Trust".
Continued support
Molly is currently receiving radiotherapy for her tumour and the family is planning their return to Portland. Rainbow Trust's Southampton care team will continue to support the family in Portland for as long as they are needed.
You may also like
"Ben Morris is a bright, engaging fourteen year old with a big smile. He loves talking about his friends..."

Read Ben's story

Rainbow Trust continues to support the Hosenbocus family, after Mohammed died of a muscle tumour in his face.

Read their story